CRUCIO
Just kidding….slightly
Well JK is using Crucio on us all for the release of The Cursed Child play (watched the play the other day and oh my god are you gonna love it)
But I went St Mungo's and Neville's parents have gifted us with a tag.
Yes they are aware there have been many Harry Potter tags and they're not claiming it to be a unique one.
Merely their a twist on others…some of the spells questions have been changed. Stuff has been added etc.
So, without further ado, here the;
---
Accio-
Summoning Charm
~ An Auto-Buy Author~

There are many authors that for me are auto-buys; Giovanna Fletcher, Cassandra Clare, JK Rowling. But I'm going use Jill Mansell. Her novels are incredible and always have me crying- I swear I'm not a massive cryer at books but Jill just gets me every time. One of my favourites is You And Me, Always and if you click here  you'll be transported to Amazon where you can buy it!
Aguamenti-
Water Making Spell
~A Book That Makes You Cry~
As I mentioned, I'm not a massive cryer at books, there are some that grab me and have me sobbing. For this question I'm going with The Book Thief by Marcus Zusak. A book which is overdue a re-read!!! This book will make you feel all the emotions all at once. I loved it (Even though it's broken my heart into a million pieces)
Alohomora-
Unlocking Charm
~A Book That Unlocked A New Genre~
I guess Fantasy is a pretty recent genre that I've recently, (well last few years) been unlocked to. The culprit? The Final Empire by Brandon Sanderson. I loved it!! The world, the magic, the fantasy-ness!! This was my first jump into high-fantasy and I loved it. I really did. I love Brandon Sanderson's world and how he crafts each world so uniquely that I instantly fall in love.
Avada Kedavra-
Killing Curse
~A Book That (Metaphorically) Killed You~
Now this one is gonna be hard. There are so many books that have just attacked my soul and killed me. Okay so I guess I should narrow down to one. Ahh it's so hard???! Right, whilst it is still three books, it is a series/trilogy. The Winner's Trilogy by Marie Rutkoski. I loved this trilogy and it is a perfect blend of fantasy/YA/adventure/heart crushing brilliance.
Check out my reviews here;
Confundo-
Confundus Charm
~A Book That Confused You~
There are always going to be books that are confusing whether for the good or the bad, some books can be downright confusing. Some books have confused me and left me so confused that I ended up hating the book. This book did not make me hate it but I certainly won't re-read it. That book is; Magonia by Maria Dahvana Headley. I don't know what it was but I could not get into this book and everything kept getting me all confused. Lovely idea for a story but I just could not get into it.
Crucio-

Cruciatus Curse
~A Book That You Struggled To Read~
You might think that Magonia would fall into this category, well, it does. But there wouldn't be much point using Crucio if I used the same book! I have other books that I struggled to read and unfortunately, ending up disliking oh so much. That book was We Were Liars by E. Lockhart. The twist was horrific yes, but how it was told I did not like. I hated this book. I struggled to read it because of the sudden massive exaggerations, "And then my heart fell out" whaat?? Was this needed? Also, big spoilery thing here, WHY KILL THE DOGS? ANY BOOK THAT KILLS DOGS IS A STRAIGHT UP BAD BOOK.
Expecto Patronum-
Patronus Charm
~A Book That Makes You Happy~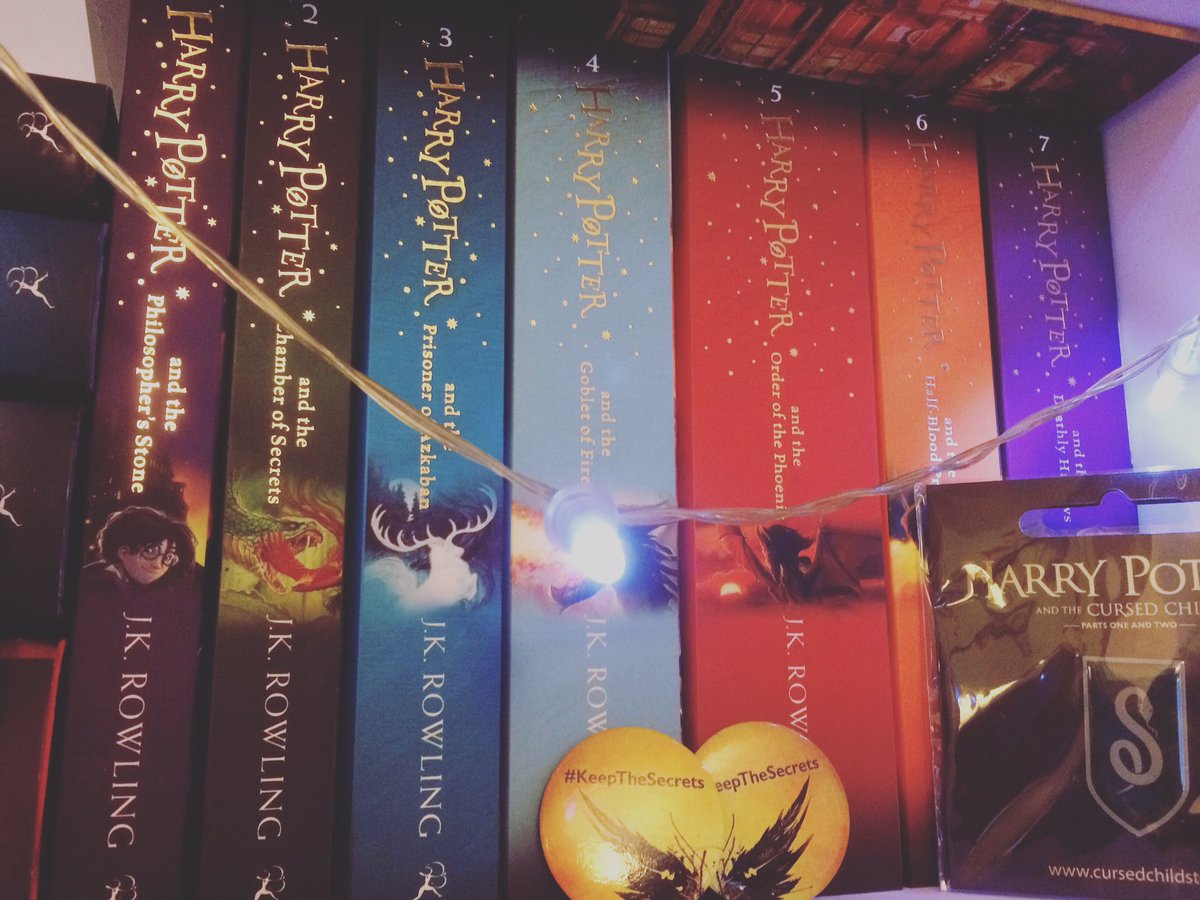 Well it wouldn't be a Harry Potter book tag without using the Harry Potter books would it? I love these books, whilst I was a little late to the game of reading them, I truly love these books. Currently I am in the middle of a re-read (catch us on #ReadTheMagic) and I am loving going back to Hogwarts. Recently I went to a preview of Harry Potter and the Cursed Child Part 1 & Part 2 and oh my god will you all love it!! It was like watching all the movies and all the books at once! Discovering I am a Slytherin has only furthered my love of Draco Malfoy, so prepare for a few Malfoy related tweets!! 
Expelliarmus-

Disarming Charm
~A Book Whose Main Character Frustrated You~
There is nothing worse than a character who just needs a good smack from being so whiney/annoying that I just want to shake and yell at them to buck up! No character for me has been more annoying than Lara Jean from To All the Boys I've Loved Before. I haven't even picked up the sequel because I just know she'll annoy the frick out of me all over again! Stop whinging you silly girl!!! 
Imperio-
Imperius Curse
~A Book You Were Commanded/Recommended To Read By A Friend~

A book that I will be forever grateful for being recommended is….Anna and the French Kiss (literally, the whole series). After watching countless booktubers rave about how amazing that series was I just had to read them! I loved all three and I cannot pick my favourite because they are all so uniquely brilliant and beautiful! Please I implore you I beg you to read them. You may be put off from the squdigy-cutesy-feel of them, but they're great books!!! Please read them!

Lumos-
Light Spell
~A Book That Opened You Up To Reading~
There is always one book that will open up your eyes to devouring as many as possible. Now whilst I did love to read growing up, I read Roald Dahl and all sorts of books! But my first buzz of  I need to read as many books as I can was via the ultimate of all authors, Jacqueline Wilson's Clean Break broke down my walls of reading and hooked me up to an IV drip of books. I did read lots before, but Clean Break was that book that just literally grabbed me and fed me book after book after book. Thank you Jacqueline Wilson for getting me fully hooked.
Obliviate-
Memory Charm

~A Book You'd Like to Forget You've Read~
I'm sure we all have them. That book that we just wish we hadn't read. Or wish we could re-read over and over without remembering so you get that lovely surprise each time you read them. Either way, we've all got a book we want to forget we've read whether for good or bad. As I've had a few pretty negative books in this tag already, I'm going for a book I wish I could forget I've read so that I could re-read it. That book is; Love Is The Higher Law by David Levithan. This book. Oh god this book is just… I cannot even. This book is my favourite of his and will always be. Such a powerful book I loved it so much. This book focuses on 3 characters, during the 9/11 attacks in New York and after them. This book is pure brilliance just brings out so many emotions in me.

Petrificus Totalus-
Body-Bind Curse
~A Book You Could Not Put Down~
Oh so many books I have read and have not been able to put down (literally in one booktubeathon case). One of my most favourite books that I couldn't put down was Rainbow Rowell's Carry On. I loved it!! Her book Fangirl had been the push I needed to read Harry Potter but Carry On was just pure cutesy magical fantasticalism that I really want to read nothing but it forever. It was so goooood!!! I loved it so much :')  Check out my review here- Carry On Review

Relashio-
Releasing Charm
~A Sequel or Book You Are Excited About~
Ahhh I am dying for just about every sequel if I'm honest, ranging from finales to series to
just plain old having the sequel in my hand right now. The current most anticipated book I want to read isssss… HARRY POTTER AND THE CURSED CHILD. Yes, as I mentioned I have already seen it so yes I know what happens. But I just want to read it you get me?? This book is going to be on everyone's currently reading very soon and I am very excited to get my hands on a physical copy of it!

Sonorus-
Magnifying Voice Spell
~A Book You Want More People To Read~
All of them! Jokes, well, slightly. But one book I really want more people to read is actually a series. The Roman Mysteries by Caroline Lawrence. Her books opened me up to loving history and all things Roman. If all children in fact any age because I'm still re-reading them to this day, could read these books. MORE PEOPLE WOULD LOVE HISTORY. The way she crafts the world, bringing to life a long ago world is so fantastic, so exceptional that I just can't believe authors like her exist. Her work is pure golden and I just cannot get enough of her work!!! Please I implore you to read the books. Read any book  by her!

Stupefy-
Stunning Spell
~A Book Where The Outcome Was Unexpected~
You ever think you know where a book is going then BAM PLOT TWIST. Yeah, I read some of those too. One of which was If I Stay by Gayle Forman. I went into this devouring every page but then the end happened and I was just like oh…. how… meh. As is the case when you think it'll go one way but goes an entirely different one. It has put me off her books but hopefully one day I'll jump into her work again!

Wingardium Leviosa-
Levitation Charm
~A Book That Is Worth The Hype~
As we come to the end, I must go for books that are worth everything people claim them to be. Whilst it took me a while to get into the groove of them I ended up loving them. That is The Infernal Devices trilogy by Cassandra Clare. They're so great!!!! Seriously guys, read them! Recommend to read them before you read the finale of City of Heavenly Fire 'cause you'll get spoiled for Infernal Devices otherwise.
Feel free to do this tag but make sure to credit me so I can find it!!