Today is my stop on the Strange the Dreamer paperback release blog tour and I am delighted to be posting my review for this magical book!
---
Taken from Goodreads:
The dream chooses the dreamer, not the other way around—and Lazlo Strange, war orphan and junior librarian, has always feared that his dream chose poorly. Since he was five years old he's been obsessed with the mythic lost city of Weep, but it would take someone bolder than he to cross half the world in search of it. Then a stunning opportunity presents itself, in the person of a hero called the Godslayer and a band of legendary warriors, and he has to seize his chance or lose his dream forever.
What happened in Weep two hundred years ago to cut it off from the rest of the world? What exactly did the Godslayer slay that went by the name of god? And what is the mysterious problem he now seeks help in solving?
The answers await in Weep, but so do more mysteries—including the blue-skinned goddess who appears in Lazlo's dreams. How did he dream her before he knew she existed? And if all the gods are dead, why does she seem so real?
---
I was blown away by this book and has me itching for the sequel Muse of Nightmares
As this was my first Laini Taylor book, and after hearing nothing but praise for her, I went into this book with hella high expectations. And oh boy were they met and THEN SOME.
Laini's writing style is so beautiful and had me staying awake until the small hours to keep on reading and reading until there was nothing left!
Strange the Dreamer, follows Lazlo, an orphan and librarian who has been obsessed with the lost city of Weep since he was very small, which was honestly so relatable!! Haven't we all had that strange obsession that we have always had? (Mine's Titanic) and omg having a character such as Lazlo was amazing and I fell in love instantly. Or perhaps I fell in love with the richness that is Laini's writing style? I was in awe of her!!
As the book is split into two parts, which usually I hate, in this book Laini managed to not only make me love the two parts but also find myself invested in Lazlo and Sarai (and honestly I cannot choose who I love more??!)
In short, Strange the Dreamer has me raiding my savings to go out and pick up more of Laini's work to see if it can compare to the brilliance that is, Strange the Dreamer.
I shall leave you now with a fan art (I think it's fan art, I got it from Hodder's website) 
---
Please remember to check out the other stops on the Strange the Dreamer Blog Tour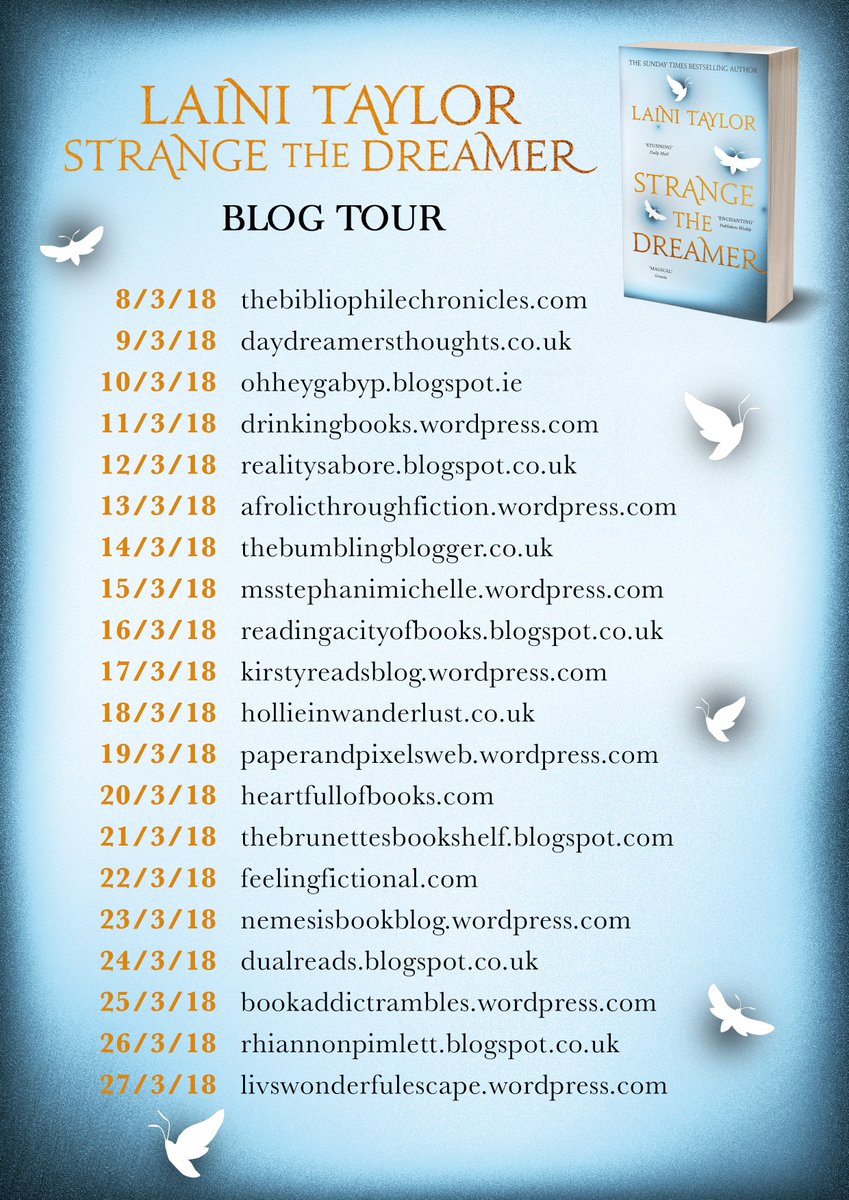 You can also buy the paperback edition of Strange The Dreamer here
And feel free to pre-order Muse of Nightmares which comes out October 2nd!